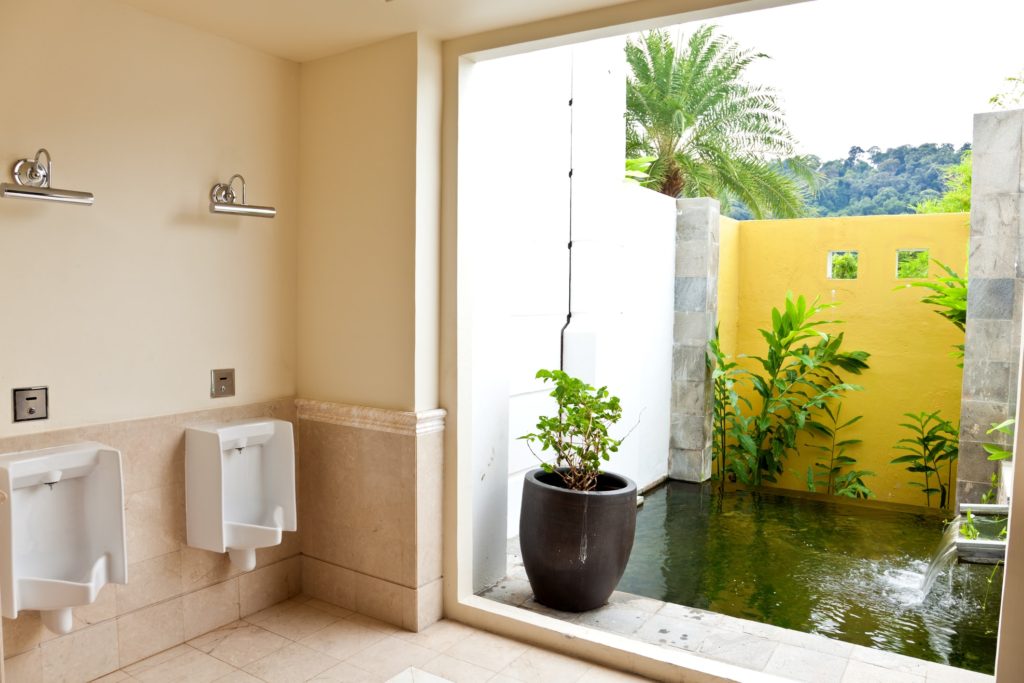 Also called mirrored water features, glass water features offer a luxurious twist of the natural environment that effortlessly elevates the appeal of every space. Despite its fragility, glass has a unique taste of modernity that instils a strong sense of style throughout the entire space where the water feature is placed. If you are looking for an incredible water feature to embellish your living or work space, a glass water feature is the perfect option.
Similar to other kinds of water features, glass water features are available in a wide range of sizes, styles and other materials too, which you should keenly select in order to get the best one for your home and business. Glass water features can be designed for and installed on both indoor and outdoor spaces. Besides just elevating the look and feel of your spaces, a glass water feature can also add greater value to your entire property.
One of the key qualities of glass that makes it an ideal option for water features is its ability to withstand damage from exposure to sunlight and rainfall. Due to its elegant appeal, glass water features create an exceptional focal attraction that will effortlessly impact charm into your home. Even in business establishments, glass water features are a unique promotional tool used in branding.
A glass water feature can also serve as an air purifier, enabling you to easily dispel air pollutants from your environment, especially indoors. Besides, the sounds of moving water within the facility also helps with eliminating white noise from the neighbourhoods, hence, keeping your spaces cool and quiet throughout. A glass water feature creates a calm and tranquil mood that inspires rejuvenation for the soul and body.
Tips for Choosing a Glass Water Feature
A glass water feature is a lucrative investment that you should never just get into without proper thought. In case you have decided to acquire a glass water feature for your home or business, the following are key guidelines to keep in mind;
Location
Glass water features can be installed indoors or outdoors, depending on your personal needs. However, it is important that you carefully check the available space and, its condition to be sure it can accommodate the glass water feature that you need. When inspecting the location, you should also look into the specific measurements to have an easier time in choosing a suitable glass water feature size.
For indoor glass water features, you may not require a lot of space since they can either be mounted on walls or custom built to stand freely. However, a professional can still guide you in choosing the perfect size of a glass water feature for every space.
Style
Glass water features come in a wide range of styles that you can select based on the theme of your spaces or the kind of feel that you intend to portray. Whether the glass water feature is for creating a focal attraction on the space or enhancing the existing ambience, you need a style that will not end up ruining your set up. With a custom glass water feature, you can always choose the specific accents to be included to perfectly depict your desired preferences and needs.
Cost
Generally, most people usually think that glass water features are expensive due to the exquisite appeal of glass. However, that is not true. Considering the numerous designs, sizes and styles of glass water features in the market, it is now easier to get a suitable match for your space and budget. Depending on the particular design, style and size that you need make a few comparisons on the available models to determine an affordable piece.
When comparing the prices of glass water features, do not bend much towards cheaper options. In fact, even the most expensive glass water features do not guarantee the most outstanding performance. Simply go for a beautiful and functional glass water feature that will fit into your space and meet all your needs.
To get the best glass water feature without going through a lot of hassles, simply get in touch with Water Feature Singapore. We offer unique and affordable water feature products and services including, design, build and install, repair and refurbishment, maintenance, waterproofing and lighting Singapore.